HOW TO MAKE HAIR EXTENSIONS LOOK NATURAL
Hair extensions are the best kept secret, along with eyelash extensions and micro bladed eyebrows. But with any natural beauty enhancer, you want to make sure your hair extensions look natural. Hair extensions should enhance your look and be the best kept secret. With the right pair of extensions no one will know you are wearing extensions-even if they feel your hair! Lacer Hair extensions are all 100% seamless-even our seamless invisible clip ins cannot be felt in your head if someone runs their fingers through your hair! That is the point of extensions, make them feel and look natural. So how do you make extensions look natural?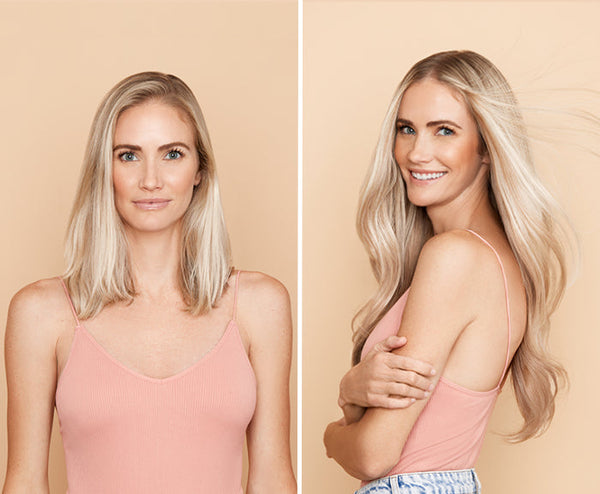 We have all seen someone whose hair extensions did not look real-and we never want to get caught with hair extensions that do not look natural!  Use these 5 tips to guarantee your hair extensions will look real and natural! As long as you follow these steps you will never have to worry if any one notices your extensions because they will look real. Follow these 5 crucial steps.
1-Have enough hair extensions
You want to make sure you have enough hair extensions to match your own hair density. That means, if you have thick hair you will need a lot of extensions to match all of that hair you have. If you have thinner/finer hair you will need less hair. If you have short hair you will also need a lot of extensions as well. You need many layers to cover up your short layers. The first dead giveaway if someone if wearing extensions if if they do not have enough extensions in. This is super important if you want your hair extensions to look real! Make sure you get extra hair so you have enough hair installed and you are confident with your hair. The most important part will be having enough hair installed on your hair. As long as you have enough hair you will be fine.
2-Use the right type of extension for your hair
If you have super thin or fine hair, wearing traditional clip extensions probably will not be best for you. They will be too bulky, weigh down your hair and probably not look good. If you only wear hair extensions for special occasions, the Lacer Hair Tape-in will be best for you as they are seamless thin clip wefts that look like tape ins. However, if you have super fine hair and want semi-permanent hair extensions, then something like invisi-tapes will be best for you. Having the right type of extension is best for making your extensions blend and look natural.
3- Get a Color Match
Usually with hair extensions you can go 2-3 shades darker or lighter from your hair color and the extensions will blend and look natural. However, if you have a unique color or you are buying hair extensions online you will want to have the right color match. You are not matching extensions to your root, you are matching them to your ends. Most will use 1-3 colors for the perfect color blend. If the extension color does not match, this is usually a dead giveaway that you are wearing extensions. If you want those extensions to look real and you are buying hair online always get a free color match before buying. Here at Lacer Hair we color match thousands of hair colors each day to make sure everyones hair will match. You must have the right color(s) when it comes to wearing extensions. Also note, if you have a gorgeous unique hair color that no hair extension company carries, it is always best to purchase the lightest blonde color #60 and color it to match your own hair. This is the best way to make your hair extensions look real if you have a unique color. Coloring your extensions is very easy, just use a color safe shampoo to keep the color locked in.
4- Use several different hair extension lengths
Those with thin shoulder length hair are the ones who get away with wearing extensions and making them look real with minimal effort. Why? Because they need one length and a little bit of hair to enhance their hair. However, if you have layers or long hair you may need two different hair lengths. One longer length to give you a longer look and one shorter hair extension length to blend with your layers. Using two lengths is a great way to make your hair extensions look real and match your own natural layers.
5- Use high quality human hair
This is a MUST if you are going to wear hair extensions! Cheaper or fake hair extensions seem like a good deal until after the first wash when they mat and frizz up and you are there with frizzy extensions that do NOT match your own hair  texture at all! When it comes to extensions invest in high quality hair-this will save you a TON OF MONEY down the road. How? You will not need to replace your extensions often because they are real human hair that will wash and style like your own hair. If you want you extensions to look real you HAVE to get the best human hair extensions on the market. Even if they are a little more expensive investing in to high quality hair will make your extensions look real and you will not have to worry about if they will matt or frizz after a few washes! If you want your extensions to look real, get the best quality extensions out there so you are confident they will last!
6-Go to a professional hairstylist
This is the best advice we can give you-go to a hairstylist when it comes to getting your hair extensions to look real and natural. Sure, extensions these days are pretty much DIY right? They may be, but hairstylists can cut and blend those extensions the best! If you invest in to a high quality set of extensions you might as well take them to a hairstylist who will cut, color, and apply those extensions. Hairstylists have all the tricks, and they WILL blend the extensions to make them look 100% natural! Hair extensions usually need cut to match your own hair. Once you get your extensions call up your hair stylist and have her apply and cut the extensions. The last thing you want is not to have your extensions blended. This will make all the difference!
That is it-getting hair extensions to look natural is super easy. Always have enough hair, have the right color, and have them cut and blended by a professional! Once you get a high quality set of hair extensions you will have those extensions well over a year and you will not have to invest in more extensions for over a year and they will look natural if you take care of them!